ROYAL ENFIELD 650 TWIN CUSTOM MOTORCYCLE DRAGSTER UNVEILED – "THE LOCKSTOCK"
Dug Dug Motorcycles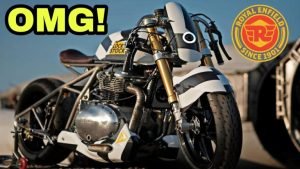 A couple of days ago, At an event organised by The Bike Shed, Royal Enfield unveiled a purpose-built dragster based on the 650cc twins. Featuring a long, low-slung design the LockStock shares its engine and fuel tank with the Continental GT 650. These seem to be the only parts shared with the standard bike – the frame, cycle parts and body panels all differ from the Continental GT.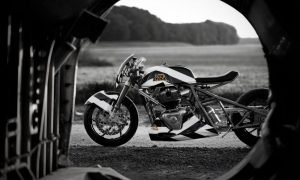 The LockStock is based on Royal Enfield's first ever 650-cc engine that will power the upcoming Interceptor and the Continental GT 650. The bike has been transformed into a high-performance dragster. Most of the parts that we see on the bike have been replaced with newer customised parts except for the fuel tank and the engine.
The face of the motorcycle is formed by a neat-looking LED ring housed in what appears to be a carbon-fibre front screen. The front mudguard extends quite far forward and closely hugs the tyre. Two bulbous belly pan units are present on either side of the bike, and these house its large exhaust exits.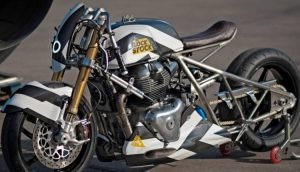 With Exceptional and aggressive looks, LockStock sees changes in every part right from the chassis, seat design, handlebar and headlamps. Body panels and rims along with tyres and suspension have also been given a makeover with the modifiers only retaining the engine and fuel tank from its stock Continental GT 650. LockStock sports a single seat with drop bar handlebars. And a most attractive parts is the ring on the fornt which is appreciated much by RE Fans.
The front suspension has been replaced with new upside down ones from Ohlins. The suspension is set at the minimum height to ensure precision riding and reduce the bike's height for a lower centre of gravity. A steering damper from the chassis has been attached to the suspension. It will keep the bike stable at high speeds and will eliminate the tank slapper. It also gets a new handlebar which allows the rider to sit close to the tank and make the bike more streamlined at high speed.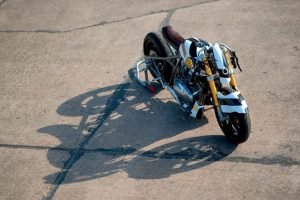 Propulsion comes from the 648cc parallel-twin engine seen on the Interceptor 650 and Continental GT 650. In stock form, this motor puts out 48hp at 7,100rpm and 52Nm of torque at 4,000rpm when mated to a six-speed gearbox. Although it would be wise to expect a very different state of tune, especially since the LockStock also carries what seems to be a nitrous can behind its engine.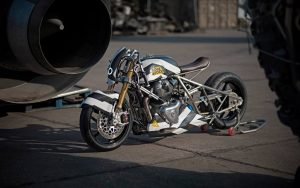 Prices in Australia have been revealed at AUD 10,000 (INR 5 lakhs) and AUD 10,400 (INR 5.24 lakhs) respectively. It will rival the Harley Davidson 750.